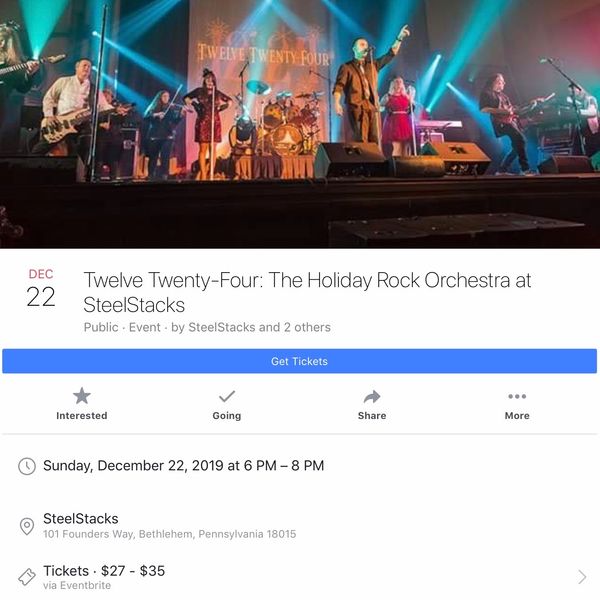 May brings with it the first big signs that Twelve Twenty-Four season is sneaking up on all of us.  Last night, we gathered for our first rehearsal of the year.  We started to piece together what we promise to be our tightest and most adventurous season in our band's long history. And as you can see, the Musikfest Café is jumping in with the start of public ticket sales today, May 3, for our December 22, 2019 show (https://www.steelstacks.org/event/8214/twelve-twenty-four---the-holiday-rock-orchestra/) 
What do we mean by "adventurous?"  This year's tour will have us visiting Massachusetts, New York, Pennsylvania, Vermont, and Wisconsin!  We're still hashing out a few more show details with our tour, but we hope to release our complete tour schedule in the very near future.  
If you want to make sure you stay in the loop for the latest 12/24 news and updates, please visit www.1224band.com and sign up for our VIP Mailing List.  By being on our VIP list, you will get the latest updates delivered directly to your inbox.  No more missing the cool stuff in your social media news feeds. 
Take some time to enjoy your upcoming summer.  The next six months are going to fly by!