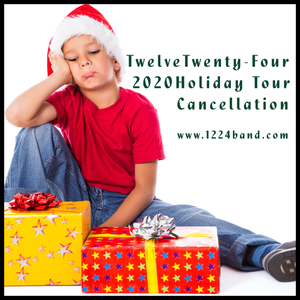 To all our fans: After much consideration, and in the interest of the health of our band, crew, fans, and families, it is with deep regret that we announce that we will not be doing a Twelve Twenty-Four tour this upcoming 2020 holiday season.  Unfortunately, the Coronavirus pandemic has brought the live entertainment industry to a standstill, particularly those venues limited to indoor seating.  
These are certainly trying times for all of us.  For the first time in nineteen years, we are experiencing circumstances that have affected our touring plans for an entire season.  Next year will bring a milestone year for us – our 20th Anniversary Tour!  You are part of our wonderful fan base and you have always been there for us and we will be there for you.  We look forward to seeing everyone in the fall of next year for our blowout 2-0 anniversary celebration.    
We also want to send our best wishes out to our fellow performers, agents, crew members, and venues severely affected by the virus's impact on the entertainment industry.  Our love and support remain with all of you.  Please stay strong and DO NOT give up on your passions.  We hope that you will use this time to further craft your skills and come back to the entertainment scene better, stronger, and more energized than ever.  
Thank you for your understanding and support.  We look forward to seeing everyone again next year when we can all safely be together. Please accept our best wishes for continued good health and join us in hoping for better days ahead.